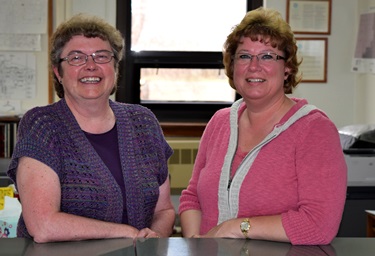 Pictured Left to Right: Susan Hoffman & Sharon Guthmiller
Assessor: Susan Hoffman
E-Mail: mcphersondoe@valleytel.net
Deputy Assessor: Sharon Guthmiller
Phone: 605-439-3663
Fax: 605-439-5330
Address: PO Box 50
Leola, SD 57456
Hours: Mon- Fri 8 am- 5 pm
Building Permit (PDF)
                The building permit is needed for the rural area of the county, and also for the Cities of Long Lake, and Wetonka. The permit is a flat fee of $20. A variance is needed if you are building/planting anything that is less than 150 feet from the center of the road or section line. The variance fee is $25 and also must be approved by the Zoning Board. You do not need a building permit for shingles or metal roofing.  Building permits are required for one of two instances:
For any improvements on or to any structure/building in which the market value(net worth) of the improvements exceeds $3000 dollars or
For any structure or building, regardless of cost, if additional land or area is required for it to be sited on.
Please return the completed building permit to the Director of Equalization with the fee, and you will be issued your building permit.
Drainage Permit (PDF)
                The Drainage permit is needed when a land owner wants to install any drain tile on their land. The Drainage Permit is a flat fee of $100 and you will also have to pay to have it published in the local paper. The permit will run twice in the paper, and you will be billed for the publishing, separately, by the County Auditor. Before you begin work on your tile, you need to be put on the Drainage board agenda, for your permit to be approved. Before the meeting you will need to bring a FSA map with all the work marked on it that you want to do, and also be able to explain to the board exactly what you want to do. If necessary you may need an engineer's report on what the project plans all entail. Occasionally you may have to return to future meetings if the board requests any additional information prior to approval. For further information on drainage please visit the drainage tab on this website or you can also call the Director of Equalization.
Manure Hauling Permit (PDF)
                If someone wants to haul manure over a 5 miles, they will need a Manure Hauling Permit. The cost of this permit is $250 per day. There is also a $1000 refundable bond held until hauling is completed. When hauling is completed and roads that are traveled are inspected and found to not have any damage the $1000 is returned to the permit holder, but if the roads are found to have any damage from the hauling the $1000 is kept as payment to repair the damage done to the roads. This permit is published in the paper.